What Others Say About D&L Sports™, Inc.
Dave,
You are neither a braggart, nor a coward.
You are humble, understated and a true Craftsman.
World class competitor, an expert in many fields, world class teacher.
Thanks for your patience.
JJ
Good Morning Dave,
I wanted to let you know that I had received the sight in yesterday's mail and wanted also to say Thank You for your excellent machine work and fast shipment. I am very pleased with the sight/purchase. The sight looks very good on my revolver, this is exactly what I was looking for and wanted. I also noticed with your sight that it does not hang up in my holster as I am drawing out the revolver and it doesn't gouge my side like the original sight did. The only issue that I have with your sight is, that I wished I had known about your product much sooner. Thank you again for a great and wonderful product,
Very Respectfully,
DH
Dave,
Fantastic Sights for S&W!
Thank you !
Revolver shooter
Dave,
Just put my new sights on. love them I can't wait to order sights for all my revolvers. a must have in my opinion. High quality and durable. Thank you for the pictures and the fast shipping I will be ordering more for my 629 and 627.
Wheelgunner
Dave,
For the record..........I don't come to you to nickel and dime you. I come to you for the BEST.
Have never been the least disappointed
1911 shooter / collector
"Custom Handguns" blog comments
Dave Lauck is a rock star in my book. That is just pure badass.
-TC
He does top shelf weapons and is a real genius
-RS
I believe it!
-RW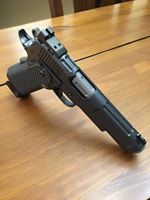 This is a very interesting piece by Mr. Dave Lauck, one of his full house 1911 customs.
-PS
Dave,
I want you to know that your pistols are outstanding and it is a pleasure to work with you. Superlatives are wasted. The D&L custom pistol which I shoot works flawlessly, every time I pull the trigger. And it's a spectacular work of art. I still often pull it out and lay it on my desk just to look at it. I have lots of high end pistols but your guns seem to be the best in a class of their own. My experience working with you has been outstanding. There are no comparable pistols. I'm honored to be able to be a customer.
Thank you.
Experienced Custom Pistol Operator / Collector
Hi Dave,
"The superior quality of your Professional Slim-line Model 1911 becomes more and more evident as I work with this pistol. In having made the transition to the 1911 from polymer-framed pistols over the past year, and having fired to date over 4000 rounds through the 1911 you made for me, in various courses, classes, and training sessions, with no failures of any kind, I have come to respect and rely on this fabulously beautiful and beautifully functional work of art. It is superbly accurate and ergonomically perfect. I carry this pistol daily with confidence and feel secure knowing it is ready and able to protect me in any eventuality. No other custom 1911 I have handled and fired comes even close to the quality of this pistol. I count myself as exceptionally fortunate to own a DLS 1911. Thank you for your knowledge, experience, and skill.
Paul D.
Hi Dave,
Christmas is of course BBQ pistol time on the ranch. Everyone drooling over my Dave Lauck pistol - nothing compares......by a country mile! The 'other big name' BBQ pistol looks like a factory pistol by comparison. Giving the kids and their friends a reason for being productive high earners. A real treat for kids still on their first Glock or Colt. You can see it in their eyes and the reverence of their handling (fondling) it. Your future customers!!
1911 shooter/collector
Dave,
As someone who has clients of my own, I have become a difficult customer. I see over and over businesses that act in such a way that I know if I did the same, I would not have clients. When I come across a business that does everything right, I feel it is important to let them know. Our transaction was very minor (monetarily speaking) but you acted as if my business was the most important thing you had on your plate. It is seldom one sees the owner answering the phone or emails.
Mike
WOW! Custom pistol built as a gift for our 45th President by a friend I met way back in 1993, Dave Lauck of D&L Sports, a master gunsmith, gun & knife maker, sniper, instructor, author, and police officer from the great state of Wyoming. He is a real innovator, inventor, and pioneer in firearms design that I met at a Heckler & Koch training course in the early 90s. He also wrote two excellent books for all manner of rifle shooters, "The Tactical Marksman" and "Advanced Tactical Marksman." His pistols, rifles, and knives are highly recommended. These were purchased in bulk and issued to all attendees of the four types rifle courses that I ran for SigSauer Academy. Everything that Dave does is top shelf.
John P
Dave,
I know you are tired of seeing how well your hardware shoots. Here is a 5 shot 0.27 moa at 853 yds with the 308. Had wind so wind holds were 1.5 -1.75 mils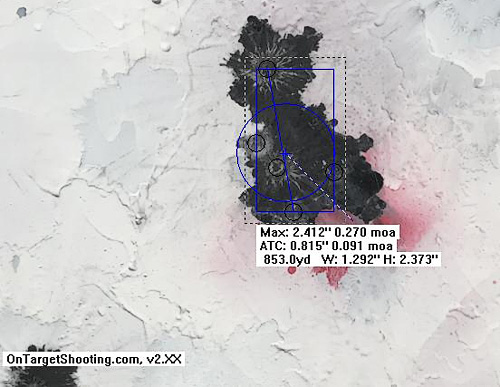 Western Shooter
Dave Lauck built my custom 1911. Why? Because he's the best: PERIOD Check him out. www.DLSports.com
Tony Brown
Dear Dave,
I am back now from the four day, 40 hour MAG 40 course at Howell Gun Club in Howell, Michigan. Massaad Ayoob did a great job in giving us a solid in depth view of the legal, ethical, psychological, and tactical aspects of defensive pistol use and how to prepare to deal with the aftermath of the use of lethal force. My 1911 performed perfectly throughout, and I came to further appreciate how a pistol of this quality can help one shoot better. I am getting used to my 1911 and am liking it more and more as I learn how to control and use it. I asked Ayoob to check the trigger on my 1911; I was curious how it felt to someone more familiar with 1911 triggers. After dry-firing it a few times, his comment was "sweet".He remembers you well, mentioned the 1911 that you built for him, and spoke highly of your skill in building 1911s.
Thank you and best wishes,
1911 Shooter
Dave,
The D&L 1911 Pro Model 45 is fantastic! Still running perfectly. I have a friend that is on Columbus special unit/swat and last time we shot about a month ago I was able to beat him on the plate rack consistently.
1911 Shooter
Dear Dave,
I have fired now approximately 2000 rounds through my DL custom 1911, so here is an update on handling and overall impressions. No failures to feed, fire, or extract. I field strip and clean carefully after each firing session, which typically has been 200 to 250 rounds per session. Trigger -- Perfect! Overall impressions -- A fabulous handgun. Feels comfortable in the hand, nicely balanced, works perfectly and looks great. This 1911 operates at a level well beyond my skills. An obvious goal is for me to bring my skill level up to, or at least approaching, the quality of this handgun. I see that happening over time based on good progress in the past month.
Thanks very much.
1911 Shooter / Gunsite Graduate
Dave
I installed your fixed rear sight for my S&W 339 PD. I was ecstatic to discover it shot right at point of aim @ 25 yards with my 310 gr Garret Hammerhead .44mag. Awesome sight. Gun fits better in my back country holster and doesn't get hung up like the Millet sight with sharp edges.
Sincerely,
Bear Hunter
Dave
I don't know if I mentioned how well my D&L Custom 1911 works. We were shooting the heck out of it and it ran like a Rolex! Thanks, I'll be in touch soon.
1911 Shooter
Initial Impressions: Lauck SLR Custom Hybrid Carbine 7.62 x 39

Opening the gun case the first visual is this is a carbine that has a definite military all business appearance, especially in FDE. The biggest initial surprise is how light the rifle is when you pick it up the first time - a tad over 7 pounds. Lots of quality gunsmithing and features added to make this an quick handling, close quarters firearm.

All controls on my custom version are ambidextrous so both right and left hand shooters will quickly adapt to this carbine. Charging handles on both sides of the receiver as well as safety levers. The mag release is positioned at the front of the trigger guard and can be operated without moving your firing hand. Mag well is smoothly machined and there is no need for wearing gloves when quickly operating this carbine for speed loads, etc. Handguard, picatiney rails top and bottom for optics and lights and a custom muzzle brake finish off the package.

I topped mine with a low mounted Leupold prismatic 1X optic and decided against the iron sights option. To keep the weight down I used a small white light, green laser combination. It came with a stubby forward grip,but I substituted an advanced hand guard stop as I tend not to use a forward grip.

Have put a couple hundred rounds thru it so far and the two impressions that stick with me are this carbine is extremely quick to handle and lots of fun to shoot. The 1X optic allowed me to easily shoot 2 MOA groups at 100 yards as well as quickly pop 9" plates at 20-65 yards randomly. The trigger is one of the smoothest I have experienced in this type of weapons platform. Since this is not a platform I am familiar with reloads are a bit slow, but I should be able to get down to a couple seconds with practice.

Looking forward to the arrival of a couple thousand rounds of 7.62 x 39 to get more familiar with this carbine.
Dave
Regarding the Professional Model 1911 .45 ACP you made for me, my expectations for the quality and beauty of this handgun were very high, based on what others have said about your work and the photographs of your 1911s I have seen. However, my 1911, which arrived from you today, exceeds those expectations in all aspects and very substantially so. The evident quality of this handgun is beyond compare. Its elegance is palpable, and it has an unexpected physical presence that is deeply attractive. None of the many other custom 1911s I have handled and fired even approaches this level of quality. Functionally, it is almost unreal in the way it melts into my hand, guides my eyes to the sights, and yields to a gentle press to cleanly and smoothly fire. I consider myself to be very fortunate to now own a D&L Sports 1911. Thank you! Sincerely,
PD
Vietnam veteran
9th Infantry Division, 1969-70
Dave
It's magnificent! Awesome! I was stunned by the look of the D&L carbine when I opened the case, and the sense of quality and permanence I get from handling it is way beyond any previous experience. The feeling is like driving around for years in an old Chevrolet sedan and then being given a new track-ready Ferrari…… I showed it to a couple of the head people…. They were impressed….The associated gear is great, too! Thanks.
Gunsite Graduate