What Others Say About D&L Sports™, Inc.
Dave
I shot the 308 last week with my nephew. He shot about a 1/8 inch group at 100 yards. The ammo was 175 gold medal match. The rifle is perfect.
Thank you for a perfect rifle!
Precision Shooter
It was a wonderful day of classes for me and your custom 1911. No issues. Mags fed perfectly even after being in the sandy environment.
Shooter
Dave,
You'll be happy to know that of all 16 people in the class, and 400+ rounds fired today, only 2 guns made it all day with no malfunction: your gun and a guy with another 1911. That includes a Wilson Combat, Nighthawk, a custom built by Ted Yost, some Gunsite special gun, Springfield's and Kimber. One guy's Springfield 9mm was choking so bad he bought a new gun at the lunch break! Unfortunately we are not allowed to video in class so no action shots. Larry Vickers was very impressed with the gun.
Tony
Dave,
We are in awe over your muzzle break. It's the most efficient break with the best noise level. I own 6 different types of break and they all are a joke compared to yours. The 375 CT shot great. I was using the factory ammo and have 1/2 inch groups. The custom bar and max rest worked like a charm. Thanks you for your hard work and precision.
Precision Shooter
Dave:
Gratefully received both mag carriers today. I have retired the other junk I was using. Your carriers appear that an M1A2 Abrams could run them over without damage.
Thanks. I should have bought these sooner, but I trusted Comp-Tac. No more. No more Blade Tech either. I'm running out of Kydex companies, save one.
We had our monthly qualification, both on and off-duty. No problem for the full sized, cleaned the course. No problem. I then brought out the D&L 45 for off-duty. In any event I go up to the line with one of our firearm instructors who is shooting his Smith J-Frame, and one of our Patrol guys who is built like King Kong and could probably bench press the Empire State Building.
King Kong shows up with a Ruger LC something in .380. Of course, being the guy I am, I tell him and I quote: "that little thing will never grow up to be a real gun, not ever." (Profanity left out) He says "What? I imagine you're carrying a 1911."
I then showed him. At the three yard line, he sprayed ten of those little .380 rounds all over. After I fired mine, the range instructor behind me said "nice hole." All ten rounds went into a hole about 1.0" in diameter.
Thanks again for great gear.
Police Shooter
Dave,
Installed your fixed rear sight on my S&W M69, a perfect fit. Shot-in at 15 paces, all in the black!! Reset the screws with locktight. The .44 is now the perfect carry revolver in bear country. Thanks for your quality product.
AK Woodsman
Dave,
Hello, my name is Scott Hill, former Marine and full time LEO currently assigned to Vice. I also own and operate my own firearms training company. I am very interested in your 1911s. One of my regular students has your Professional model with many upgrades. I must say that your craftsmanship is second to none. My student's professional has been put through some very hard use in the last couple years, thousands of rounds and 100's of hours of dry practice. I honestly don't recall one malfunction in all that training.
I have been in the market for a quality, life time 1911 and I can't honestly justify not having you build me one considering how much I was impressed with my student's own gun. There is no better marketing tool then actually seeing it perform right in front of you. Again excellent work!
-SH
Dave:
This pistol is amazing! I can't wait to get to the range and shoot it this weekend! Thanks for the excellent work!
-Tony
Dave,
The professional 1911 you sold me several years ago continues to be my favorite firearm. I have 4000 — 5000 rounds through it so far.
1911 Collector
DL Sports 300 Win Mag
A couple of weeks ago I received my professional grade 300 win magnum from Dave Lauck at DLSports.com. Dave used a Remington 700 long action which he trued and installed a Shilen select match barrel and a Elite trigger group. He machined the chassis, stock and brake and the rest of the hardware (rails, sling swivels, etc). Mounted a Bushy 4.5-30 in FDE to match the rifle's finish. Certainly a bit heavier than the 308 he did for me awhile back but will certainly reach out a lot further. Wish I could post a photo as the rifle is pretty spectacular. Sighting in with FGM 190 gr ended up with a couple of three shot 100 yard groups at 0.242" and 0.251" Going to five shot groups I was more around a tad over a third of an MOA. The brake is superb and between the weight of the rifle and the brake you could shoot this all day with no recoil issues. Snow and wind have been a problem for getting out to do some distance but did manage a third of an MOA on a 10 inch steel plate at 500 with four of five shots. Have gotten steel set out to 1200 and now waiting for the weather to give me a break. I am just getting into long range shooting and started off with a Ruger Precision Rifle in 308, and some good advice from forum members. The step up to the Lauck rifles is a significant improvement, and I have to say shooting the magnum is more fun than I have had with a gun in a long time.
J.H. Colorado
Dave,
I have been a huge fan in your products. I have used your products during my deployment in the army and i have recommended them to everyone in my unit and everyone i know in general… thanks for the great work. I´m impressed with your company. Thanks again
SSG. US Army (ret)
Dave,
You do have an amazing product. It's extremely accurate, dependable, and in combat it is unbeatable. I would use your weapon above all. Thank you for being a leader in excellence.
CM SSG Retired military / 18B
Dave,
I feel a 3 shot group is an indicator of how well the rifle, per se, shoots and in this case 0.229", or under a quarter of an MOA. Not to shabby!
Rancher / MD
Dave,
Holy **** the new DL rifle is FUN!!! Broke in the barrel with 20 rounds done as with the 308. Besides being a great looking gun it is a shooter. If I was a decent shot I bet .25 MOA is not an issue. Recoil! What recoil? Like shooting .243 IMO. Nicely balanced… as usual John Browning has nothing on you, rifle is a masterpiece. A perfect precision hunter
High County Hunter
Dave,
I shot the my DL 1911 Longslide for the second time. The 1911 itself is truly the best. It makes all of my other 1911´s paper weights.
Competition Shooter
Dave,
I checked my 500 yard target, shot with my DL MR-30. My groups were under 0.2 MOA!
Precision Shooter
Dave,
I took 2 different bucks. At 400 yards and one past in 2 days. Both through the heart and down they went. Confidence is all I can say. MR-30PG rifle is perfect.
High Country Hunter, Colorado
Several months ago I got interested in precision rifle shooting as neighboring rancher built a 800 yd range and said I could use it anytime. So I bought a commercial "precision" rifle that just came out and is very popular. It was a good rifle but was a bit rough and shot fair. Dave had a MR 30 in 308 at D&L Sports so it was easy to make that choice.
Got the rifle which has a silky smooth trued Remington 700 action, Shillen barrel and an Elite trigger group, which is the best damn trigger I have ever shot with. The rifle weighs 10.3# with bipod. Added a Bushnell 4.5-30 tactical scope and 4 rounds later had a 100 yd zero. My next five shots produced a 0.304"group from prone at 100 yds!
One helluva rifle, Dave! Even an old cowboy can look like a shooter with one of your rifles.
Thanks,
An old cowboy, Colorado USA
Dave;
The Colt Officer's Model is perking along just fine. "Cleaned" our off duty course twice again. No malfunctions, etc. The full size is cranking right along, no malfunctions at all, no issues at all. Both pistols shoot straight as a pipe. With all of the assaults on police officers of late, I remain confident carrying your pistols. I cannot say that for other brands. Confidence means just about everything.
Thanks again
K.U. Sergeant, County Sheriff's Office
Dave,
I was looking at a gun blog recently and noticed this question, "What is the most accurate semi-auto pistol on the market today?", so I clicked on the link and read through a bunch of the responses. I found this;
1) Dave Lauck 'Professional' extreme custom 1911. This gun has a long proven, and repeatedly proven, reputation of shooting 1" groups at 25 yards.
I could not agree more, you have to feel pretty good knowing that your guns make the list of people's choices for the absolute most accurate pistols in the world! Whenever I am at the range and someone starts saying they cannot believe how accurate the so & so gun they just bought is, I offer them $100 if they can shoot a smaller group with it at 30 yards (as far as our pistol range goes) vs me using your custom 1911. I have yet to lose any money.............
Charles
Wow Dave,
You continue to be on the cutting edge with your gun designs Dave, very impressive stuff. My (D&L Pro Model ) 1911 has at least 4,000 rounds through it at this point, and not one single failure to fire or jam at all. Total reliability, functionality and style---my absolute favorite gun!
American Shooter
Dear Dave
I now have the 340PD in my possession.
I love the sights!
I love the grips!
I love the action!
You are a master, my friend!
Thanks so much, my friend.
John Farnum Firearms instructor
Dave:
I own an example and can attest to the craftsmanship and ability to maintain a proper firing grip because of the excellent traction your checkering provides. My 1911 that you built for me a few years ago is a prized possession and it has not failed me...not once and as you might remember reliability was at the top of my list of build requirements. You gave me that in spades...thanks.
Jack Furr Firebase Academy
Dave:
I just could not help myself, I just had to go out and shoot the pistol. Who knows how many rounds of FMJ and JHP were fired, all with no issues at all. I went to a friend's home, as he has his own range, and is one of our range officers. When he saw the pistol, he appreciated the "cool" finish, and we went to work. The pistol is rock solid, works every time. Since he is a friend, I did not utilize my usual vulgarity when he asked me to sell it to him.
I cannot thank you enough for your attention and customer service. In this age of no consequences, it is refreshing to encounter someone like you that pays attention to details and makes sure the product works every time, all of the time. Since I have changed jobs again, and will be running our Warrants Division, I can accurately predict that there will be others to comment on the pistol.
Sincerely,
U.S. LEO
Dave,
Holy shit. I had to look at the serial number of the gun to make sure it was the same one. Love the finish. I thought the trigger pull was good to begin with, however, I think the new parts improved it. It is still bank vault tight. No surprise there. If I can shoot up to the pistol, I will be fending off the offers again.
Dave, I cannot thank you enough for your attention to this project. In our age of "it's not my job", and getting wanked around by folks that have IQ's that hover near the temperature of the room, it's nice to know that someone does actually put customer service where it belongs. And more importantly, KNOW WHAT THEY ARE DOING.
Merry Christmas.
LEO
Hi Dave,
Thank you so much, what an outstanding firearm. Both my FFL dealer and I were amazed and had so much fun looking at the pistol. And thanks also for the T-shirt, posters, and other information you provided in the shipment. Very thrilled with the purchase.
Thanks again.
Custom 1911 Collector
Snub Training – D & L Sights
by Michael de Bethencourt at SnubTraining.com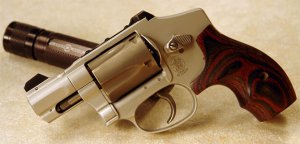 D&L's J-frame sights
D & L Sports, Inc offers a high profile front and rear sight replacement for J-frame snubs with pin-on-front sights such as Smith and Wesson Model 340 and 342. The D & L front sight is an oversized pin-on replacement item that mounts above the usual height of J-frame front sights. Once pinned in place the sight can be custom machined to adjust for both windage and elevation in order to hit to point of aim.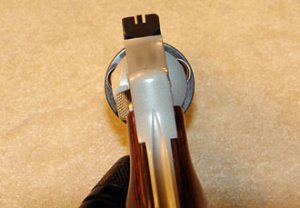 D&L's J-frame sights - Close up
The rear sight is a one piece unit, and is machined from solid bar stock that also sits well above the usual rear sight grove height. Approximately ¼-inch of the snub's original rear sight material is machined away to accept the D&L rear sight, which is then attached to the notched-out area at the rear of the snub, and solidly mounted in place via a set of three screws drilled and tapped into the snub's top strap. Completed, the whole unit is solid, snag free, and offers a substantial advancement in sight picture. The sight is available for nearly all the Smith & Wesson J-frames with the notable exception of the various Model 38 style Bodyguards.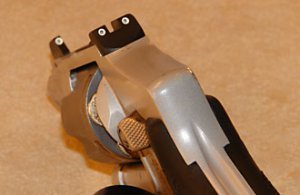 D&L's J-frame night sights
For truly dedicated snub owners, the D&L sights can also be procured with set of tritium inserts in front, rear or both sights. The recommended procedure is to have D&L Sports fit your snub with a set of sights. Then confirm that the sights are shooting point of aim — point of impact with your preferred ammunition. Then have the night inserts installed.
It should be noted that the cost for machining a set of sights and the addition of night sight inserts is commensurate with the value of the lives you are expecting to protect, i.e. yours and you family. Is the cost high? No, not when you consider the cost of losing a fight against an armed attacker. I have preached repeatedly that no one in the middle of a gunfight every praised himself for the savings he had achieved through the buying of a cheap gun, inexpensive ammo, a substandard holster and a complete lack of after market shooting aids.
Of special note is the news that D&L Sports have started to offer these exceptional sights for the Smith and Wesson K-, L-, N-, and X-frame revolvers though don't expect to see that many X-frame snubs. Unlike the J-frame sights that will be milled into the frame of the fixed sighted J-frames, these new sights are designed to replace the adjustable sights on the Smith and Wesson K-, L-, N-, and X-frame guns. The rear sight is a drop in piece and will replace the rear sight without any machining. As a result the factory front sight does not need to be removed or replaced.
Dave,
The trouble with D&L sights is that they spoil you against everything else.
MB, Snub Revolver Training
Dave,
If I had it all to do over again I would definitely use your fixed 1911 sight design.. They are robust quality sights that will allow the operator to use them in many ways that Novak's will not. It's just my opinion...... Anyway, had I not had the sights that are presently on the pistol that you built for me...I would have opted for yours no doubt. I believe yours are the very best fixed sights available today...bar none! ...... it only costs a little more to get the very best and it is worth the expense in the long-run....... I know you to be the very best Custom Builder of Heirloom Quality Guns presently in business and when it comes to guns that you can bet your life on I trust your judgement, knowledge, expertise, quality and reliability over anyone that I know. Not trying to blow smoke up your skirt...I believe it to be a fact and here it is in print. That's my word. I do appreciate the pistol that you built for me and it works every time...good looking too.
Jack Furr - Veteran Firearms Instructor / LEO - Firebase Training Academy- Former Gunsite, Thunder Ranch Instructor
Dave,
I just shot the D&L AR-30 semi auto at 100 yards. 3/8 inch groups. It shoots great. If I miss it's all the shooter fault… not the rifle… as always
Thanks
Competition Shooter
Sent: July 08, 2014
Subject: Tactical Weapons
Dave,
This is great gear, it is needed and, as always, you're years ahead of the others. It was your vision on training, shooting, and equipping that saved many lives in both Iraq and Afghanistan. Great concept, keep working it, this should be the way we do it in the future.
Col. / U.S. Army Central Command
HI Dave,
My D&L Pro Model 1911 now has about 35,000 rounds through it, and it is running great ! It is my go - to gun.
Thank you
1911 Shooter
Dave,
The testfire of your Pro Model went awesome. Couldn't be happier. I brought another friend along who was really impressed as well. 300 rounds through the gun, flawless as I expected. You made a work of art.
US Navy (ret)
Dave,
To try to put words into words our experience of shooting your .45 Pro model is a tough task. Steve, Ben- a Marine - & I had a great time poking .45 caliber holes in the paper targets. I have never held a better made pistol. It is so smooth and tight. Thank you, thank you, thank you for such an enjoyable weapon. Working with you has been a TRUE pleasure!!!!
Practical Shooter
HI Dave,
This is too much!!! You are way to generous!!! Thank you, thank you, thank you for the way cool apparel, and you included many extras, plus additional magazines!!! Doing business with you is such a delight. Thank you and a sincere & heartfelt, Ooo-Rahh to you Dave. You are the best!!
1911 Shooter
HI Dave,
The 45 pro Model is still running awesome. I really wish I had another one. Thanks Dave, You are the man!
Practical Shooter
Dave,
I just finished a 2 day training class using the 1911 you built me. 800 rounds with only oil for maintenance. My instructor said I had the first 1911 he'd seen come through his class with zero problems.
Thanks for your craftsmanship and the high quality tool you built for me.
Practical Shooter Wichita
DL,
My D&L carbine now has in excess of 20,000 rounds through it.
Overall impressions:
The D&L Piston carbine has had in excess of 20,000 rounds of ammunition of various makes and loadings fired through it. I do not recall a single instance where the rifle failed to operate as related to the gun's function. The gun has only been used with D&L custom magazines. The weight and balance of the gun is superb and is rock solid under firing conditions given the machined fixed stock. In all of this use, not a single screw, pin, or part has come loose / failed in any way. The after market / non-D&L manufacture trigger group has exhibited reset problems and is to be replaced by USGI parts tuned to DL's specifications. All in all the rifle inspires confidence and confidence is what accurate and effective marksmanship is all about! No better AR platform on the market today!
JW Spec ops
Dave,
Got the precision AR rifle, looks outstanding.....110 rds through it so far no failures of any kind....100 yard group shooting....all were touching during zeroing. Hitting 14" plate at 840yd no problem in 0-12mph mixed wind! Head shots at 552yd in 5-10mph wind today, again pretty easy 8 out of 10 hits.
Sgt. US Army SF
Dave,
I have used your mags for the last three and a half years and they have served me well. I have fired approximately 10,000 rounds using your magazines without a malfunction.....I have several other big name magazines, but they just don't measure up to the reliability and durability of your magazines.....Yes, they are a little expensive, but well worth it....Thank you for the support, and continue to make this great 1911 magazine.
Master Sgt. (39 years, ret), Distinguished pistol shooter, President's 100 with pistol, NRA High Master, NRA 2650 Club, Military marksmanship Coach.
Dave,
Put rounds through the Custom AR today with new scope and rifle worked perfectly out to range limit of 700 yds (34F, rain, 5-12mph -wind). Head shots on steel was getting boringly easy, need to find longer range! Also put 300 rounds through the custom pistol doing some static and moving drills, ran like a champ, very accurate. Cold/wet but damn good day at the range with DL gear!
Thanks,
Sgt , SF, US Army Ft. Campbell
Awesome customer service Dave! Will keep ya posted. Thanks again!
Precision Rifle Shooter
Dave,
I just wanted to let you know that I got out this morning ( minus 4 temp and 4" of snow but only 10 mph wind) and shot the G21. I really like the safety. I've been dry firing and it's just perfect. Everyone I've shown it to likes it also. I posted a review and pics on the Gunsite Alumni list. I told them if they mentioned my name you'd charge them 10% MORE <GG>. I sure enjoyed our visit and thank you again for the safety.
Gunsite Graduate / Defensive Shooter
Mr. Lauck
I have been impressed with your works of art since I first saw your 1911. Whenever anyone asks me about "Grail Guns", yours are at the top of my list.
Naval Special Warfare Military Command (ret)
Dave,
The DL Custom AR rifle shoots unbelievable. I been using black hills 77gr and IMI 77gr and all my shots touch each other at 100 and 200 yards. The IMI 77gr I had a 1/2 inch group on the bi-pod at 200yrds. I´m hoping to shoot at 800, 900 and 1000 on Thursday long range practice day at Ben Avery in a couple of weeks. Thanks for all your hard work and a great rifle.
Rifle Marksman / Collector
There is no shortage of inferior feed devices. You should trash poor quality magazines if you intend to bet you life on the 1911 pistol. Dave Lauck of DLS inc offers a professional grade magazine in both 7 and 8 round capacity. They are worth betting your life on.
Bob Campbell, Veteran LEO, Shooter's Log
Dave,
I appreciate your honesty and great customer service more than you can imagine. This is how I treat my customers.
Business Professional
Dave,
The Marco Polo sheep I got last month was another unbelievable shot, 580 yards. That's my 42ND one shot kill in 38 countries. The Ibex was at 540. The most unbelievable shot was last year in the Caucus mountains of Russia. The two guides tied their leather belts together and tied the belt rope on to mine and I laid out over a rock ledge and shot it at 480 yards straight down beneath and back under the ledge. They yanked me back so hard it hurt my neck. It took them half the next day to get to the bottom of the gully and retrieved the trophy. When are you going to have another rifle shooting contest? At 79 I will take anyone on. Your custom D&L rifle has become a legend among the very large group shooters I am associated with. The gun is a perfect fit. I now have the perfect gun.
International Big Game Hunter
Sir,
I'm a former LEO now working as a private detail... I spent some time in US training on various weapon systems and tactics
I'm a big fan of custom 1911's... Unfortunately, here in Italy, the best we can find are just hi end factory guns, like Les Baer, Wilson, Ed Brown and Night Hawk... Sold at really unfair prices, from 5500€ to 7000€...
Being a 1911 platform lover, I must admit that your tecnical solutions are brilliant, making the 1911 again a reliable modern combat weapon... ...I had the opportunity to shoot one of your Professional Model 1911s for a period.......I've seen all other pistols stop working for various reasons, your Professional never failed... Nothing can compare with them........I'd really like to own one...
Security Specialist / Italy
Dave,
Yea, though I walk in the valley of lions I fear no evil as my DL 45 comforts me.
Mountain Lion attack survivor / hiker. ( Colorado, USA )
Dave,
First, you are the man! Some of best work I have ever seen, ever. Inspiring!
Regards,
Sgt. USAF
Dave,
I did a quick zero on the custom AR. .68" five round group at 195 yards. I think I could have shank that group a little, but I was more interested in shooting ice covered steel targets. I shot 60 rounds at steel at 600 yards. Only two misses under foggy conditions. No malfunctions at all. The custom pistol also ran like a champ. Very happy with it.
US Army SF
Dave,
My AR is a lot slimmer now with your handguard, feels and looks allot better! The Glock you customized for me is awesome, naturally points on target now and the slide cuts are perfect.
Thanks for everything Dave
Sgt. US Army SF Ft. Campbell
Hi Dave,
I've used your 45 acp magazine in three 1911's using both lead and FMJ bullets.....So far the magazine has functioned flawlessly..... The magazine seats easily even when loaded with 8 rounds.
USPSA Competition Shooter
Dave,
This is my latest hunt with my custom D&L rifle. The MP is a little over 60 inches and Ibex is 47 and the largest taken in years.
International Big Game Hunter
Dave,
I am in Istanbul on my way to another Marco Polo hunt and my 36TH one shot kill with the finest lightwieght hunting rifle ever built, a Dave Lauck custom. My final target shot in the field a few days ago at 600 yards was a neat 3 or 4 inch group. See you soon!
International Big Game Hunter
Dave,
The AR-15s are a work of art. I picked up your CQB and purchased your precision AR-15. They very impressive AR-15s..... They are perfect..... I got your AR magazines, they look great. Thanks for works of art.
Rifle Shooter
To Dave Lauck,,
Your customer service is as good as it can possibly be! As funds permit, I've got two more Mountain guns that need your sight.
Warm regards,
Major USMC ( ret )
Over the past 16 years I have owned and shot 5 Lauck custom handguns and was convinced I was shooting the best 45ACP out there. Then I sent one of my 5 inch guns back 6 months ago for a make over. Dave worked his magic and it is a good thing I knew the serial number as I would not have recognized the gun when it came back. It shot even better. Now for sure I had the best 45 ACP around.
Well I was wrong!!! I had decided I really did ultimately want a DL Sports Signature Grade Professional Model. All my other guns were made on Colt or similar 1911 base guns. My new Professional Model is a concept that Dave and I worked on to make it a fairly fancy shooter, or what the Texas Rangers would refer to as a bar b q gun. Frame is color case hardened, slide blued and aged and yellowed ivory grips. Wow!!!
This is not only a hell of a bar b q gun but the finest pistol by a long shot I have ever held. The ivory grips are the way to go. Speaking of shooting, nice 21/2- 3 inch groups off hand at 25yds (I am not a bullseye shooter), hitting a silhouette at 100 is cake, but most impressive were the double taps at 7 yds that were not only delivered quickly but were consistently 1-2 inches apart.
This was going to be a bit of a safe queen for me, but after the range session I would be crazy not to carry this on a daily basis.
Thanks, Dave!
Practical Shooter / Colorado
Hi Dave,
Glock pistol came back to me yesterday; thanks for the quick turnaround. This is a huge improvement over my other glock manual safety experience; that one felt cheesy and was difficult to manipulate. Yours is solid with a very good bearing surface for my thumb. I shot it a bunch yesterday, and am very pleased. Will get another one out to you soon.
Thanks again,
Defense Shooter / MD
Dave,
Wow, just a beautiful pistol / knife set. Your work never fails to amaze me Dave. Your hand is guided by a higher power just like Leonardo da Vinci.
Gun Collector
UNCLASSIFIED;
Dave,
Things are busy here in AFG, but going pretty well, been using your AR and 1911 mags in some nasty conditions, absolutely reliable thanks!
SSGT. US Army / SF
Dave,
Went today with 3 of my buddies, one of them a Vietnam vet. I shot his m4, (it was accurate but had a little kick) They all were incredibly impressed with the smoothness of my DL carbine. No recoil........One of my buddies contemplated calling you but instead bought another AR, he was very upset with his purchase after firing my rifle; said mine was ten times nicer and his has a lot of recoil. As you know, mine has no recoil. Attached is the target I used for about 100 rounds. I was pleased with my accuracy.....Awesome rifle!
Thanks again,
Rifle Shooter
Dave,
I can say with certainty that your weapons have saved me and my brothers in arms lives. For that I will always be in your debt.
AFG Combat Vet
Dave,
The carbine is simply amazing! Test fire went great. Scope spot on! My son and I had such a blast, went thru nearly 500rnds. Thanks again! Have been passing on your contact info to discerning admirers of your work!
DB / MD
Dave,
My 1911 ( Pro Model ) continues to perform absolutely flawlessly, I let someone shoot it at the range the other day and they said "it felt better in their hands than any 1911 they had ever held". Quite high praise indeed, certainly the best handgun investment I have ever made.
Thanks,
Competition and Defense Shooter
DL,
Now THAT is a bad ass looking gun! The sights are great. Very quick acquisition and good for old eyes as you said. I really like the color and the fact the entire gun is "plain". Looks more like a gun suited for business rather than pleasure. Trigger is silky & crisp break, and safety is smooth. I am really pleased!
Defensive Shooter, MD
Dave,
Jeez where do I start? This DL CQB AR carbine looks fast standing still! Great looking rifle that is amazingly light when you pick it up. Perfect ergonomics make it easy to shoulder and get good firing position with cheek weld. In short - very user friendly. Finish on the weapon is nothing short of spectacular. Sniper Grey is THE color! The safety and trigger are mechanical works of art. Positive but smooth as silk. Trigger is the proverbial glass rod. What a pleasure to shoot. This is a superb rifle and the craftsmanship really shows.
Defensive Shooter / MD
Mr Lauck
The pro model you built for me is exceptional. I qualified with it with no problems what so ever with it. By far the best pistol I have owned well worth the investment.
Best Regards
Federal Agent Stationed at 'The Last Outpost'
Hi Dave,
I just wanted to let you know that the Pro Model 1911 that you built for me is absolutely fantastic! I can go on and on about how well the gun was built, but, the feedback that's posted on your website (by real world operators) says it all. But, I will say that the Pro Model makes it A LOT easier to put all 8 rounds from a full magazine into a 3" hole at 15 meters using the ammunition that you recommended (I'm currently using Federal's Match Grade 230 gr FMJ). I'm pretty sure that other shooters with more skill than I currently posses can probably do a lot better than that, but, for me that was definitely an improvement. I obviously need to practice more! But, the great part was that I was able to do this 5 of the 7 times I was shooting for accuracy (the other 2 times measured approx. 3.75" - I'm going to have to blame this on operator excitement). I was even able to repeat the 3" group twice at 20 meters. I would put money down that this Pro Model could cut these groups in half if I had a Ransom Rest. This just gives me more incentive to practice! I've put about 400 rounds in it without a jam and will start running the Golden Sabers in it after I finish the 500 round mark with the FMJ loads. This is an awesome firearm and I'm glad I came to you to have it built.
Thanks Dave
Best regards,
1911 Shooter
Hi Dave:
I must say that the pistol you build for me is far and away more appealing, more accurate, more comfortable to shoot, extremely reliable, solid, with the best craftsmanship than any pistol I have owned. I have had Wilson's, Novaks and Rogers pistols. The Lauck model is quite simply the very best that I have owned. Thanks again for a Great Pistol.
Firearms Instructor
Dave,
The D&L Sports™ custom 1911 built for me will be my full-time carry piece beginning Jan 1 2013. I'm looking forward to it. I've been shooting it as often as time permits and it has worked flawlessly since receiving it from you some months back. Magazines are good, accuracy far exceeds my abilities and I have the utmost confidence in it. It's what I have wanted in a pistol for some time...many thanks
Director - Firebase
Dave,
The AR is shooting very well, I have never had any problems with it. I really like the extra accuracy and light weight. I was really impressed with the rifle during the shooting course, and I don't want to change anything. Ultimately, this is my "do everything" gun, and it is working really well for me.
Navy Seal
I used the D&L CQB for a Basic Sniper class in Los Angeles a few weeks ago. I used a 2-10 Night Force scope on the rifle, and it worked really well. I was making consistent hits out to 600m, and the accuracy from 100-300 was phenomenal. I also used the MR-30 for part of the course, and that was amazing as well. Ultimately, I want to try to save up for another rifle that you make.
Thanks again,
Navy Seal
Dave, Just picked up the engraved .45. I have to tell you that the engraving is beautiful. Needless to say it was quite the hit at the gunshop. Thank you. This is the finest pistol I own and you can be sure it will be passed down for generations.
Thanks again.
1911 Collector
I picked up my pistol yesterday, it's a beauty ! Much appreciated Dave. Your customer service (like your product) is second to none.
Thanks again.
1911 Collector
Dave,
WOW. I picked up the longslide Saturday. Its beautiful. The fit and finish is excellent!! And thanks for all the extras; T shirt, holster, etc. This pistol and the engraved one are truely the centerpieces of my collection. Thank you so very much for your time and dedication. I will always treasure this pistol as I do our long friendship.
Sincerely,
WS
Collector/Shooter
Subject: [Dtiquips] Premium ARs
14 July 12
Premium ARs
I've written recently about utility ARs, most of which retail at 1k to 1.5k. I like plain-vanilla rifles, designed for serious Operators for serious use, and recommend them to most of my students. So long as they are operator-grade, and the manufacturer provides good customer service, I'm fine with most. I thus I have scant interest in tight, frail, temperamental, hobby-grade rifles, designed to appeal strictly to contest-shooters who are interested in seeing their names on the top of the leader-board, and in little else. I use the terms, "serious rifle" and "Operator-Grade" to describe the former.
Several premium manufacturers, most of whom I know personally, and for whom I have a great deal of personal and professional respect, offer premium-grade rifles, intended for serious use by sophisticated Operators who appreciate critical refinements, and are willing to pay for them.
Among the top of this List is Dave Lauck. Dave is a design geniuses, and is devoted to providing bona-fide Operators with guns that feature every genuine advantage currently known. I have copies of Dave's wares, and they are second to none, but they are expensive!
Dave's DLS/CQB is an extraordinarily solid car-gun. Short, slick, light, fast. It fairly defines a fighting rifle. Every sharp corner and edge is rounded-off, and the entire unit is treated with a high-tech finish that provides superior protection from the elements. Trigger is wonderful. It's a pleasure to carry and use. I carried and shot my copy all last week at an Urban Rifle Course here in CO, and I, along with everyone else who used it, loved it!
My copy is equipped with Leupold's Prismatic, zero-magnification, optic. Not much bigger than an Aimpoint T1, Leopuld's version features an AUG-style "doughnut of death," which has some real advantages. Works like a red-dot, and has a battery-module for low-light, but features an etched-glass reticle that is always there, even when batteries fail. I've learned to like it!
I'm proud to count Dave, and many others, among my friends, and I appreciate him tolerating me and patiently contributing to my continuing education.
When you're willing to pay for premium features on a superb fighting rifle, they are the ones to see!
John S. Farnam / Veteran Firearms Instructor
Dave,
Finally got to shoot my 1911 the other day. I have to say it exceeded my expectations, which is not easy to do since I expected it to perform great. It fed flawlessly, sat in my hand nicely and was effortless to shoot, nice smooth trigger, and the sighting was zeroed in perfectly! I have some 1" diameter Shoot'n'C stickers that I put on my targets, and I was hitting them with no problem at 40 feet. When you can hit a 1 inch target repeatedly at 40 ft with a .45 ACP, you have a tremendously accurate gun.
Fantastic work Dave, it is truly a pleasure to shoot this gun!
Charles
Dave,
I just picked up my DL Professional model -- Wow! I worked the slide and trigger and can honestly say I have not handled a smoother 1911. I'm very impressed and will take it to the range this weekend for sure. Top notch work Dave. Very good looking gun - I love the matte hard chrome finish as it does not reflect glare at all and is super tough. The crowned and recessed barrel is a nice touch and that front sight looks tank proof. I'm sure I will be getting several more from you...great work!
VB , 1911 shooter / collector
Got this last weekend in West Texas this was my 18TH one shot kill. Worlds best gun. »

Dial

« All I do is point the point the gun and pull the trigger, it does the rest. This is an persion Ibex.

Dial

Dave Lauck Guns;
AWESOME!!
LtCol Robert K. Brown USAR (Ret) Editor, Publisher, Soldier of Fortune Magazine, NRA BOD

Awesome!!! I have one of your mags & I carry it on duty in the 1911! It is the only mag I have used that has been 100%!!! I have used mags from Tripp, McCormick, nighthawk, SA... And yours are the best!!! All the guys at work ask about them!!! I will keep you updated & send you some pics!!!
Thanks!!!
Police Officer

Dave,
Just got the 45! Damn you are the master! It's incredible ! Thanks!
Practical shooter
Hi Dave:
Just wanted to let you know that the pistol is incredible. I put 100 rounds through it when I picked it up. My shooting partner shot it and really likes it too.
Thanks again, CCW Shooter
Dave,
Got the gun today and filled out all the paperwork, it looks fantastic and feels really great in my hand. The sights are particularly nice, your design is really good. Everyone there was ooohhing and aaahhing over the gun, I had to pry it back from them to store in the safe for the 10 day waiting period. Thanks also for the shirt and other items, I really appreciate it. Cannot wait to shoot the 1911, if it performs 1/10 as good as it looks its going to be amazing!
Competition Shooter
Subject: Re: Yuma Six Gun
Got the gun. It it is awesome. It drew a crowd at the shop and the manager and gunsmith were particularly impressed!
Cowboy Action Shooter
Mr. Lauck
Today, I was able to qualify with the .45 you worked on and making it more performance and duty efficient. I was able to shoot a fifty round course that was initiated at 50 yards with a five round string. The rest of the qualifications consisted of shooting from 15 yards to 5 yards with tactical reloads, on the move shooting, one hand strong and weak shooting. The weather conditions were extremely hot with a temperature of approximately 95 to 97 degrees Fahrenheit and a heat index of well above 100 degrees Fahrenheit. I did not encounter a single malfunction or issue with this pistol. I am extremely satisfied with the performance of this 45 and I highly recommend your product to anyone that takes their personal safety whether on duty, off duty or the civilian that wants the best for their home, and family safety. Oh by the way I, came three rounds short of firing a perfect score. Not bad for shooting this gun out of the box for the first time. This will be my primary duty pistol as of today.
Best Regards LCA Federal Agent
Dave:
Believe it or not, I have changed jobs again at my department, and am running our Drug Task Force. I also have recently been authorized to carry something other than our issue Sig P229. I´ll let you guess what I chose. The first 1911 I bought from you several years ago is still running along like the first day I got it, and I´ve received the "stinkeye" from some of my contemporaries for carrying it. Oh well, too bad, so sad. The full size still shoots like the first day I obtained it, and it also speaks volumes when some of our "customers" see it. I "cleaned" our off duty course this morning, twice with the Officer´s Model. No malfunctions at all, no surprise there. The Officer´s Model was also coveted by some at the range, and all offers for sale or trade were naturally turned down in a most profane manner. I cannot express the feeling of security I have having two of these outstanding pistols. I cannot say the same for the Sig. Go figure.
P.S.: Congratulations on receiving the prestigious Gunsmith of the Year award. You deserve it. Also, you should move here. There are not enough fully qualified 1911 gunsmiths in the area. Please consider it. Really.
Det./Sgt. K.U.
Dave Lauck
One who will do to ride the river with.
Ron Power Sr. 2012
Dave,
I picked up the 1911 this morning. This afternoon I put 200 plus rounds through it and it was awesome. It took a little while to get over almost three decades of shooting mostly Sigs, but my appreciation for the 1911 was reaffirmed. I love the gun. It seems to me to be as to a stock pistol what a Purdey is to a Remington 1100. Holster works well and is nicely fitted, magazines are awesome, and I enjoyed the four magazine holder while shooting on the range. Thanks for bearing with me for a year, I for one am glad I did.
Best,
US Navy SEAL
Dave, we got back last night from out of town. We drove to Big Timber and stopped at the Fort to retrieve my gun. I am in awe of the pistol. It is beautiful. The detail, gold inlay, everything is awesome. I will treasure the pistol forever. Thank you very very much. You two did a great job and it will look great in our collection. Thanks again for everything!!
Deputy Sheriff
D&L Sports™ Professional Model
by Matt Berger
There are scores of gunsmiths across the country, with skill levels that range from nothing more than basic armorer to truly talented smiths. Very few achieve the notoriety and status of being well known and nationally recognized for their craft. One of those few is Dave Lauck of D&L Sports™. Dave is a one-smith shop, not delegating work to thers like most custom shops...
» Read More …
Custom Combat Handguns - 2012
An exceptional 1911 magazine comes from Dave Lauck of D&L Sports™ inc, featuring a follower with two long legs that enhance feed reliability all of the way from full compression with the first round to almost no compression with the last round in the magazine. The original DLS magazine is a true hard use seven round magazine. The idea was to improve and perfect the 1911 feeding device. The DLS eight round version features and extended floor plate for more room to still accomodate a full strength spring. The DLS magazine is tank tough, and while an expensive, the magazine cannot be faulted on any count.
American Gunsmith Magazine
Hi Dave...
I am speechless... I now feel there is hope for me and my HG... Why in the world would they ever design that gun without the rear sights??? Not everyone is a marksman... You have made it possible for me to move on for improvement in my shooting. It just makes you feel better when you achieve what you are trying to acheive...
Thanks you so much... You did your job extremely well and in such a short time...
Regards J H