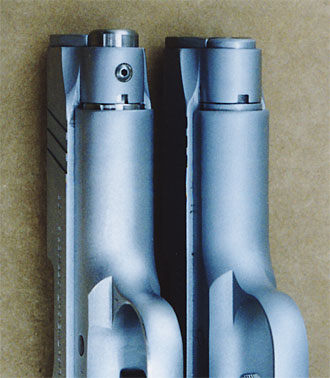 (left) D&L Sports™ Reinforced Spring Plug with Lock Screw
(right) D&L Standard Installation of Reinforced Spring Plug
Dave Lauck received repeated requests to manufacture a compact signature 1911, but refused to do so until all the known weak points of the existing compact pistol could be cured. Dave Lauck has redesigned the weak recoil spring plug into a heavy duty unit designed to work in conjunction with a heavy duty barrel bushing. This reinforced spring plug system is used in all D&L signature CR-45s (close range 45s).
Two different versions of the reinforced spring plug are now offered to those wanting to upgrade their Colt OM pistols. Both of these plugs are simple to install, but like all other components from D&L Sports™, they should be installed by a competent gunsmith.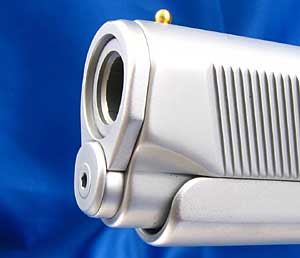 The standard reinforced spring plug requires an approximate .090" flat be milled in the underside of the slide to allow the reinforced plug shoulder to seat properly in the slide. The plug should be fitted along with a heavy duty barrel bushing. It is also recommended that a small lock screw be drilled and tapped through the underside of the slide and spring plug. The heavy shoulder on the plug stops the plug from going out the front of the slide during pistol operation. The lock screw stops the plug from being pushed back into the slide during re-holstering, muzzle impact, chamber press checking, etc.
The reinforced spring plug with stainless steel retainer is installed in the slide in the same manner as the standard reinforced plug. A heavy duty bushing is needed with this plug system. The retainer is then screwed into the front of the plug to stop the plug form being pushed back into the slide during re-holstering, muzzle impact or chamber press checking.
Both of these heavy duty designs cure the weak front end component problems that have plagued the compact 1911 pistol since its introduction.
| | |
| --- | --- |
| Standard SS reinforced plug | Price: $40 |
| SS reinforced plug with SS retainer | Price: $60 |
| Heavy duty barrel bushing | Price: $45 |