The tomahawk has endured for centuries for one simple reason. It works. It works as both a weapon and a tool, and for many subcategories of each: edged weapon, impact weapon, custody control device, digging, chopping, piercing, cutting, breaching, slicing, etc. In short, it is a very functional all around design. However, experienced tomahawk users have one common gripe among them; head/handle failures. From the time early tomahawk builders tied a blade to a stick, to modern times, tomahawk designers have sought to improve the head handle connection for better durability and reliability.
Dave Lauck's "Superhawk" design eliminates the head/handle connection problem by eliminating the connection all together.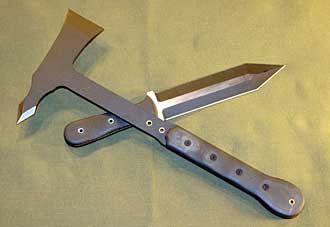 D&L Premium Tomahawk
The Superhawk design allows for the hawk to be cut from a single piece of steel. The steel type chosen was not based on budget, it was based on performance. 154 cm was selected due to its deserved reputation as being a "supersteel" among high end cutlery steels.
Superhawks are cut from a single piece of 0.250" thick 154 cm then hand crafted by Dave Lauck into a hawk that is contoured and radiused in the handling areas, and honed to razor sharpness in the cutting areas. The hawk is heat treated for peak durability.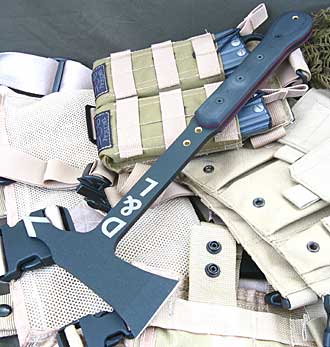 D&L Premium Tomahawk
The Superhawk has an overall length of approximately 16" and the weight is kept at approximately 20 oz. for lightning fast handling. Handle material consists of individually contoured Micarta slabs. These slabs are secured to the inner steel handle by 316 stainless steel Allen socket screws with a tensile strength of 125,000 PSI. The final handle shape is oval, which provides superior indexing over that of a round handle.
Keep in mind that a tomahawk can be similar to a claw hammer. It can injure at both ends of the swing. Proper training should be aquired before use, and operator caution should always be exercised against self-impact.

D&L Premium Tomahawk

The Superhawk's handle is of course drilled at multiple locations for security lanyards at the operator's position of choice.
Overall finish is generally matte black with black handle material, unless a custom variation is requested.
The cutting edges of the Superhawk are designed to be both effective and simple to maintain. No wild curvatures that are questionable in durability and nearly impossible for the field operator to sharpen.

D&L Premium Tomahawk

You can use the Superhawk for general light hand ax chores, but you could also probably accomplish the same chores with a less expensive tool. The Superhawk was primarily designed for experienced edged weapon operators looking for a razor sharp implement of tomahawk design. One made with old world craftsmanship and modern innovation.

Price: $350