Attention Colt SA Army collectors
D&L Sports™ has been able to acquire a very small quantity of new, Genuine Colt Model P Single Action Army revolvers WITH CONSECUTIVE SERIAL NUMBERS. These revolvers are in .45 LC caliber with 4.75" barrels, and with blue/color case hardened finish. These are factory engraved with; 1836-2011 175th Anniversary on the barrel. From the Colt Custom Shop. These can be had as new in the box, or used as base revolvers for complete custom / engraved revolvers. ( see the Texas Ranger revolver section at www.DLSPORTS.com ) POR.
Attention Collectors
Early Lauck guns have sold in the $150,000 price range. Now D&L Sports™ Inc. is taking bids on three very collectable Dave Lauck Signature Firearms:
Bidding is underway for multiple low serial number guns in the DL002 to DL010 range.
Slimline Professional Model 1911
Custom Signature Slimline Professional Model
Serial Number DLS00001
Now available for bidding
For collectors wanting sets of custom 1911s and ARs, some low serial number AR style rifles and carbines are available. Getting serial number #1 pistol and #1 AR carbine, serial number #5 pistol and #5 AR, and so on, is possible. These are one time opportunities.
1911 Signature Professional Model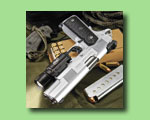 .45 ACP 1911 Signature Professional Model
serial number: DL002.
The gun in this photo is serial number DL002
Yuma Sixgun
Genuine Colt custom sixgun with color case / master blue finish. Grips are handcrafted African Ebony with 18k gold crosses in both grips. .45 LC caliber. This sixgun is similar to the " Hand of God" sixgun used in the movie 3:10 to Yuma. The deposit on this project was forfeited, so the sale price on the gun is only $4850 plus shipping to your FFL.
Mad Robot Style Moving Target System
Mad Robot style moving target system with mover, remote control, and charger. No track needed.
Great shape, used very little.
Sells new for $3700-$4800
This unit for sale at only $2500 plus shipping.
Robot Target for sale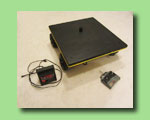 D&L Sports™ Folding MR-30PG Rifle
-Prices Available on Request
Lightweight MR-30 .308 Win.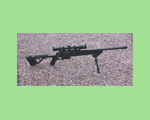 Two 45 cal Ruger Custom Cowboy guns, black
Sale Price $1650 each
Custom Glock 17 9mm Available
Forward mounted rear sight co-witnessed with low mounted Delta Point red dot optic. Front and rear slide serrations. Fluted SS match barrel, wide match trigger, slimmed and contoured grip frame, flat backstrap, filled magwell void, beveled magazine entry, half moon cut grip frame for mag extraction, high undercut trigger guard, integral/blended beavertail, sand textured grip frame.
Hart Premium Barrels
A few new Hart premium barrels, chambered and threaded for the listed calibers are available. Barrels are available with and without integral muzzle brakes, some fluted and some not.
Please call to inquire about price.
Three gun Shootist Set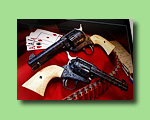 Two genuine Colt Sixguns in .45 LC, master blued with fitted ivory grips and full scroll engraving. And a genuine Remington 1866 .41 RF derringer. This set was done in tribute to John Wayne's last movie, The Shootist. This three gun set comes with a beautifully handcrafted presentation case. Bids are being accepted.
Nesika Bolt Actions
A few new Nesika bolt actions are now available for assembly by your riflesmith in the stock of your choice. These actions are already barreled with new premium Hart barrels in various calibers; .300 RUM, .338 Lapua, .300 WSM, and .308 Win.
Please call to inquire about price.
Gambler Sixgun Set
| | |
| --- | --- |
| Consecutive serial numbers on twin Colt SAA in .45 LC with 4 3/4" barrels. Both barrels inscribed with Colt's 175th Anniversary information. Both guns fitted in a handmade Gambler box. Mirror polish on both guns, both with genuine ivory handfitted grips. | |
D&L Sports™ MR-30PG Rifle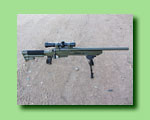 The DL Sports™ MR-30PG Rifle ( Marksmans Rifle, .30 Caliber, Professional Grade ) has evolved over the last 35 years. Each generation of the MR-30 reflects advancements in field practical precision shooting systems. The MR-30 rifle has been the only rifle to win the triple crown of tactical shooting competition during ITRC activities. ( International Tactical Rifleman Championships ). Winning the Triple Crown requires the rifle to win the overall sniper match, the Man VS Man Shoot off, and the hit a 2" target at 500 yards with one cold bore shot. The MR-30PG is now available in lightweight, medium weight, and heavy weight versions. This completed model is a medium weight .308 Win, with a 2.5 - 10x Night Force illuminated reticle scope on it.
-Price available on request
D&L Sports™ MR-700 - POR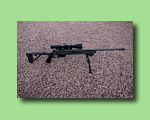 Custom semi auto Browning BAR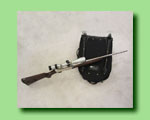 Custom semi auto Browning BAR in .300 WM. It comes equipped with a Zeiss 4 - 14x duplex rifle scope. Mirror polish steel parts and a high gloss stock and forearm set.
Serial Number 0001 Slimline Professional Model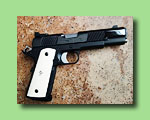 A one of a kind Slimline D&L Professional Model is now available and bids are now being accepted via email and phone. Serious collectors will recognize the value of serial number 0001 out of the well known Professional Model line of D&L custom 1911 pistols.
Lightweight bolt action .300 RUM hunting rifle
POR