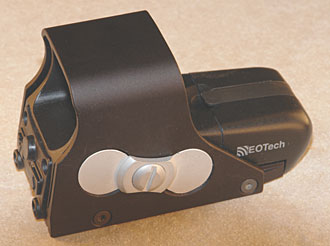 Serious shooters know the importance of maintaining a precise zero on their firearms. This is especially important for emergency responders who may have to deploy without live fire zero checks.
When using 1x optics and the D&L forward mounted iron sight system, no live fire zero checks can be completed by aligning the zeroed and locked iron sights, then visually confirming your red dot sight reticle comes into proper alignment.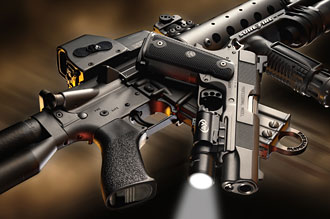 To further assure zero retention is maintained, optic adjustment covers are a very wise precaution. The Eotech series of sights have become very popular as a fast action sight, but they have no sight adjustment covers. The adjustments are recessed, but not immune from accidental adjustment. This has been a problem when a serious use firearm sight is rubbed against a variety of other equipment. It can also be a problem when a duty firearm is racked in a patrol unit and the adjustments are exposed to unauthorized persons.
When sight adjustments are made, and the zero is changed, but unnoticed by the responder, the results can be disasterous. The Dave Lauck designed Eotech adjustments cover minimizes problems with adjustment and zero changes by accident or tampering.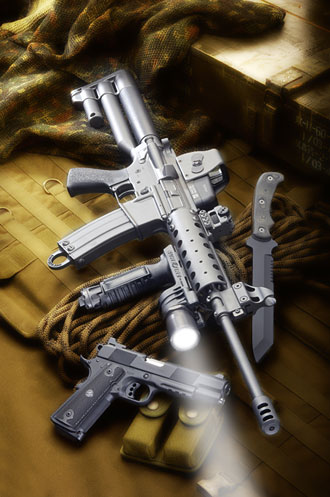 It is recommended that the sight be properly mounted and precisely zeroed with your duty ammo. Then paint a line across the adjustment screw onto the sight body. This will give indication if the adjustment has been moved. Then install the adjustment cover to protect the adjustment screws and their settings.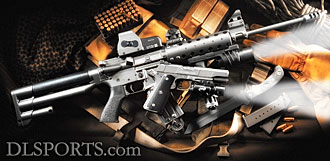 Installation is simple. Remove the sight shield, position the adjustment cover, mark the location for the single attachment screw, and drill and tap a single 10-32 screw hole. Degrease and secure cover with the supplied screw and dab of blue #242 Loctite.
The cover can be removed for future adjustments with a coin, shell casing rim, or flat screwdriver.
$25 each (black)