Heavy duty 1911s built for right handed shooters feature single sided thumb safeties for good reasons. Split shaft ambidextrous thumb safeties just don't hold up to heavy use. The click on click off action tends to be weak, and split shaft tends to flex enough to give the operator a spongy feeling. Problems become worse when the split shaft breaks inside the pistol during operation, and or the right side lever does not take the safety off when you need it to. A single strong side 1911 safety lever, combined with proper 1911 training, is the best way to go for right hand 1911 shooters.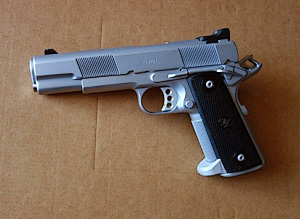 However, decades of experience with the 1911 has exposed areas which could be improved upon in the design of even the single sided thumb safety. The safety must be able to in fact act as a mechanical safety. In other words, the internal lug on the safety must be oversized enough to allow precise fitting to a wide variety of pistols and internal components. The D&L thumb safety features an oversized internal lug to allow for a precise professional fitting.
The connection between the cross shaft and the frame plate must be durable or fracture can occur. The D&L safety features and extra thick, (and beveled) frame plate allows for an extra strong plate/shaft connection.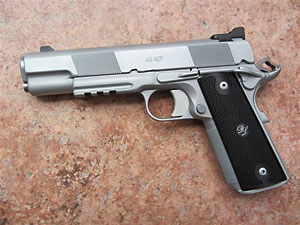 One of the most common failures of 1911 pistol thumb safety design is when the thumb safety plunger slips past the thumb safety plate, thus locking the thumb safety in the ON position. When this problem goes unnoticed on a defense pistol, the consequences can be disastrous. The problem frequently occurs when the plunger tube housing is loose, or the wrong specification to work with the thumb safety being used. However, if you examine your own 1911 thumb safety/plunger connection you will probably note that the plunger rides in the very edge of the front face of the thumb safety. It takes very little outward movement of the plunger to slip past the thumb safety face and lock the thumb safety ON.
The D&L solution? Manufacture a thumb safety with a front face over twice as thick as common 1911 safeties so the plunger operates at full engagement with the safety. Combine this with heavy duty plunger tube or thumb guard attachment work and the problem is solved.
Price available on request