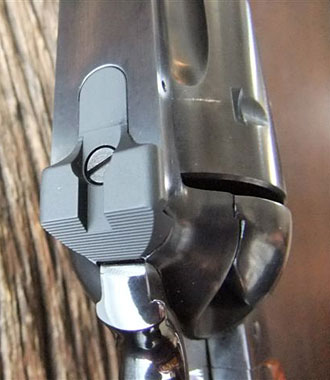 Finally a solution for Ruger single action shooters who are tired of the sharp factory adjustable sight. The D&L fixed rear sight solves all these problems, and more.
The low mounted custom sight allows the entire high sight line of the Ruger revolver to be lowered. That means the rear is low and snug to the flat top frame, and the front sight can be trimmed down when obtaining final zero with your preferred load. Now the gun is much more snag free, durable and smoother in and out of the holster.
The sight picture is similar to that of a custom 45 auto with well designed sights, yet retains the ability to elevate the front sight in the rear notch for distance shooting. The rear notch width is ample enough for fast action sighting in lower light conditions, such as camp defense. The sights are designed to also accept night sight inserts for low light situations.
The rear sight can be user installed without any milling on the frame. Simply remove factory rear sight and loctite the new fixed sight in place using a single screw and the factory drilled and tapped hole. A gunsmith can add a second drilled and tapped screw for extra heavy duty installation.
Final zero is achieved by trimming the front sight into zero. Lowering the front sight will raise the point of bullet impact on target. Shaving material off the right side of the sight blade will move the point of bullet impact to the right on target.
Once these sights are mounted and zeroed, you will have a heavy duty sight system that wont be bumped or broken out of zero, and have a sight picture have a superior sight picture.