D&L Sports™ Custom CQB
Iron Sight for AR-15/M-16 Flat Tops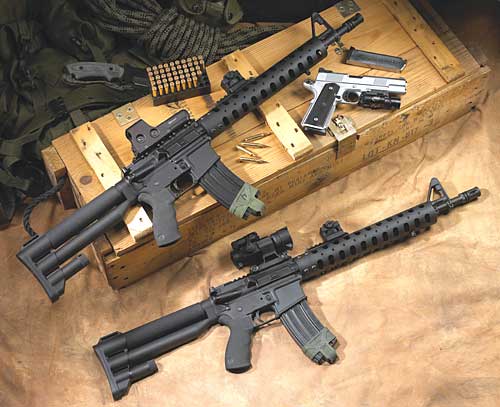 Having read some of the material Dave Lauck has put out over the years, I knew the sight was going to be something worth testing. The construction of the sight is sturdy and combat ready. D&L put some time and effort into the composition of this sight. The system is available with three different aiming pieces: standard notch, notch with tritium inserts and ghost ring aperture, which is the rear sight configuration seen on most AR-15 sights. The model I tested had the standard notch rear sight groove, which made picking up the sights quicker and similar to acquiring your handgun sights. The weapon I tested the sight on had a tritium front sight post and made the sight acquisition even quicker in low level light arenas. I zeroed the weapon at 50 yards and then conducted the shooting drills I normally do with CQB weapons. The weapon was put through its paces with approximately 500 rounds and lastly confirming the zero at 50 yards again at the end of the day; No deviation on the zero at all. I checked over the sight and it held true to its intended purpose. The 17 set screws practically eliminates the possibility of zero being altered without some intended effort. With this in mind, a multi-user weapon at the patrol level would avoid being tampered with if this sight was utilized. Overall the system definitely has a place in the CQB application it was designed for.

- NTOA Evaluator

I like the CQB sight you made. It was made of quality material and held up at the "pit". I liked the idea of being able to move the sight to whatever position I liked. The design of the product definitely had S.W.A.T. in mind. There was no problem viewing the sights through the optics, however, I would suggest investing in the night sight options. I particularly liked the front sight blade. The heavy duty construction held up well, and I do not anticipate breaking this one.

- NTOA Evaluator

Rated excellent in accuracy, quality, durability, storage, design, performance, ease of use, convenience, application, maintenance and versatility by NTOA evaluators.
Dave lauck designed this heavy duty sight set to be as fast as a pistol, accurate as a carbine. This rear sight allows for three interchangeable center sighting devices; an open top notch and an open top notch with night inserts. (The notch sighting devices are designed for use when the rear sight is mounted at the front end of the upper receiver.) The rear sight is also available with an aperture (ghost ring) center sighting device for mounting at the rear of the upper receiver.
The rear sight is fully adjustable, then lockable with a series of 17 lock screws. This in effect creates an extremely durable and precisely zeroed fixed sight which can withstand the rigors of police, military, and serious competition use. It also creates a sight that is very difficult for unauthorized personnel to tamper with. An excellent sight for patrol rifles, entry teams, military units, etc.
This sight is triple cross bolt mounted on Colt spec A3 flat tops and features protective base material around the center aiming device to assure the field durability Dave Lauck designs are known for.
The front sight designed to compliment this rear sight features the same durability factor. It replaces the fragile front post on AR-15/M-16 rifles that commonly snaps off under hard use with a much more durable blade front sight. This front sight fits standard front sight towers and allows for a night sight insert to be installed. The design of this sight set allows for pistol shooting speed in CQB environments, yet maintains the three point contact and accuracy of the carbine.

Shooters who choose the notch style center sighting device and forward mounted rear sight position will be able to use optics in conjunction with this sight set. The sights were designed to be mounted and zeroed, then have their settings locked in order to always have dependably zeroed back up sights on the firearm. There is ample room behind the forward mounted rear sight to allow mounting of Aimpoint, Tripower, Acog TA01 and similar sized optics.
D&L Sports™ Inc. produces a special ring mount for Aimpoint and Tripower sights which positions the optics at the perfect height for high speed sighting and allows use of these iron sights right through the optic tube in event of electronic failure. (The ring mount is very rugged, quick attach/detachable, and holds two extra Aimpoint batteries.)
Overall we have to consider this CQB iron sight set to be the best and most rugged design available for their intended purpose. Their patent pending features are unrivaled by any other AR-15 CQB iron sight set

Pricing:
CQB adjustable/lockable rear iron sight

$213

Rugged blade front sight

$52

Options:
CQB rear sight center notch piece
with nightsight inserts

$184

Rugged blade front sight with night insert

$161

CQB rear sight center aiming piece
with ghost ring aperture

$69
D&L CQB iron sights cowitness in the bottom 1/3 of the field of view in Aimpoint,
Tri power and Eotech sights when the optics are properly mounted
Important note:
The locking features of the D&L CQB iron sight allow operators to precisely zero the firearm, then lock the sight's settings. Shooters using red dot type electronic optics can then zero the optic and note that the iron sights will zero with the aiming point of the optic. The iron sights not only allow back up sighting in case of optic failure, they also allow a no shots fired zero check of the optic's reticle when responding to emergencies in occupied enviroments where live fire zero checks are not possible. Zero checks are of critical importance to professional marksmen.
Dave,
I just wanted to let you know that I brought out my D&L AR while I was teaching a two day rifle class. Two of the cops that I work with had their check books in hand. I told them Hell No. Dave, your gun really sets the bar so high I don't think anyone can touch it. Your D&L Iron Sight is so fast and accurate, the SWAT boys can't keep up with a has been like me.
Police (retired)
Dave,
Thanks so much for the copy of your wonderful rear AR sight! It is terrific.
Firearms Instructor