There are many versions of the forward mounted vertical grip currently available for the AR-15 style firearm. Many of them have both good and bad design features. Dave Lauck designed the D&L vertical grip to have useful qualities for the tactical operator without any of the weak points of other designs.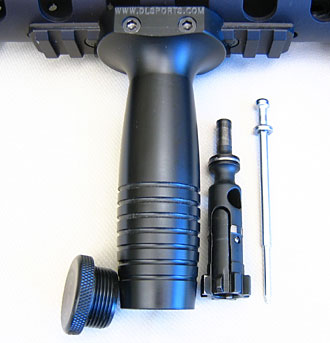 First priority with the D&L vertical grip was to assure it was heavy duty yet light weight. This was accomplished by machining it from solid Delrin.
A side benefit of using Delrin is that heat from the aluminum hand guard is not transmitted by the Delrin grip. The D&L grip mounts securely to Picatinny style rails via two Allen head cross bolts. No more grip slippage like friction mounted vertical grips. The outside diameter of the D&L grip features recessed rings for operator hand traction. The bottom of the grip features a knurled cap, which provides access to the grips hollow interior. The grip's interior is contour cut to allow for storage of a complete AR-15 bolt assembly along with a spare firing pin, or it will accommodate two AA batteries or two 123A batteries. The grip will hold these items securely, and will do so without being overly long.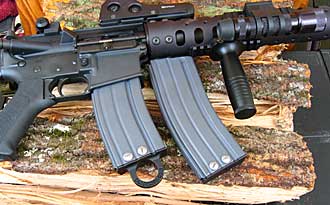 Heavy duty, light weight, rugged attachment bolts, and a well designed storage compartment all in one unit.
$52 each