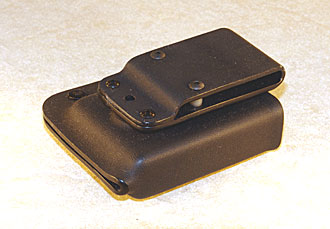 If you are tired of the poor quality thermoplastic products that have flooded the market, and their equally poor designs, then you will appreciate D&L Sports™ Kydex products. They are made from top quality, and heavy-duty Kydex. No injection molded flimsy materials are used. Dave Lauck product designs assure field practicality and durability.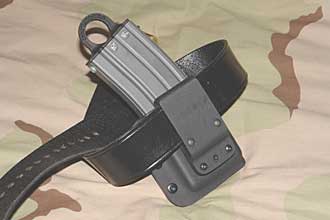 This magazine pouch can be converted to carry an AR-15/M-16 magazine in several different ways. The belt loop attachment allows the operator to carry the pouch on a conventional 1¾" wide belt. This makes the pouch well suited to low profile, plain clothes operations. Removal of the belt slot width limiters allows the pouch to be carried on duty belts up to 2½" wide. Perfect for police and military operators who want to carry an extra magazine in a compact pouch on their duty belt.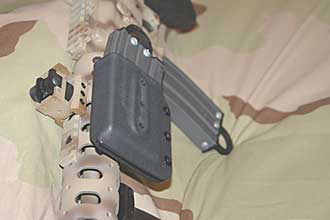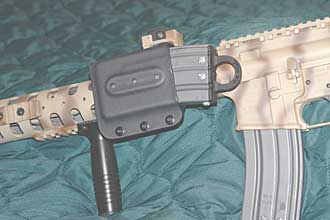 The belt loop can be completely removed from the pouch and the pouch can be directly attached to the D&L AR-15 handguard. This positions the magazine in a horizontal position close to the magazine well. This allows for very quick magazine changes. It also allows for an extra magazine to be carried on board the firearm all the time. This is great for patrol officers who want to automatically leave the cruiser with more than one magazine every time they grab the carbine.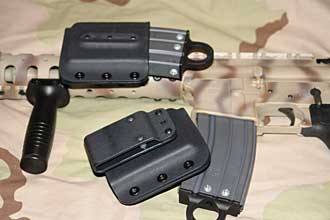 The magazine pouch can be directly bolted to existing threaded holes in the D&L Sports™ handguard, or mounted to other handguards with minor gunsmithing. No brackets or clamps are needed. The concave mounting surface conforms to the side of the handguard, thus keeps the overall package very compact and slimline.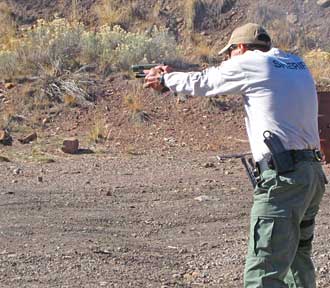 The pouch is tension adjustable, ambidextrous for either side of the firearm, and allows the magazine curvature to face up or down. This is a top quality Kydex product, not a mass produced injection molded item.
Prices available on request