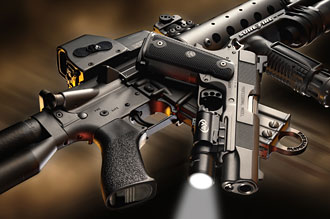 AR-15 shooters are aware that there is a small spring loaded plunger that holds the buffer and spring into the stock when the receivers are open or separated. Pushing the plunger down allows for easy removal of the buffer and spring for maintenance etc.
Big problems occur when this plunger and spring escape from their plunger tunnel inside the firearm while firing. It can lock your rifle up tight, and it can be a difficult stoppage to clear in the field.
The D&L solution: cure the problem before it happens by eliminating the spring loaded plunger and replacing it with a buffer lock system. It still allows simple access for cleaning and maintenance, and it eliminates a locked up rifle due to an escaped plunger and spring. Cheap reliability insurance.
The buffer lock is best installed during the construction of a custom rifle project.
Price: $115