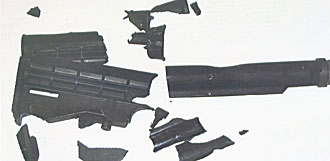 A bent, broken and/or dented buffer tube on your AR style firearm will stop its operation immediately. Commonly available plastic stocks are not hard use durable.
The D&L Sports™ AR-15 compartmental stock continues to be very popular due to its simple, heavy duty, and field practical design. It remains the stock of choice for many serious AR-15/M-16 shooters. However, the increasing use of heavy body armor by entry teams, and confined space activities by other special operations personnel, has led to a high demand for a adjustable version of the stock.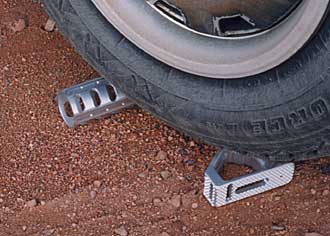 D&L Sports™ gear is tested and retested to assure it is hard use durable and field practical.
Dave Lauck was well aware of the design and durability problems associated with commonly available collapsible AR-15/M-16 stocks from personal experience. Stocks which rattle, bend, dent, and fracture were simply unacceptable for consideration.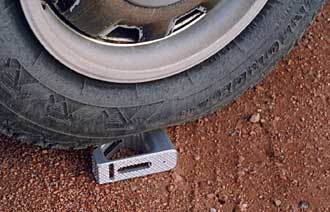 The D&L Sports™ AR-15 Adjustable Stock is the most heavy duty, yet light weight unit available.
The goal was to overcome the problems associated with available designs and produce the most heavy duty adjustable stock available, while maintaining a light overall weight. This goal has been accomplished and a new standard has been set for AR-15/M-16 adjustable stocks.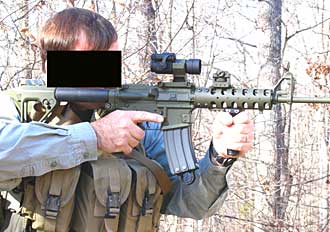 One of the big problems with conventional composite and aluminum collapsible stocks has been durability. Smacking the butt on the ground to gain assistance in opening a stuck bolt, or using it aggressively in a CQB environment typically resulted in a broken shoulder piece and a bent buffer tube. This can cause the firearm to be inoperable. Another problem often relates to a poor buffer tube/receiver connection. This connection has commonly only been held snug by a small lock ring. A stock that comes loose creates additional problems which can lead to an inoperable firearm.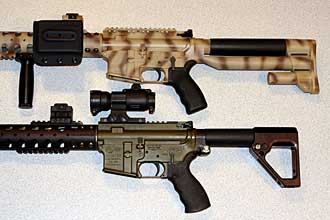 Looseness between the shoulder piece and buffer tube has been a quality control problem over the years and has resulted in unnecessary noise and rattle with conventional collapsible stocks. The stock lock mechanism effectiveness has also been related to the fit between the buffer tube and shoulder piece. This, combined with the exposed lock mechanism, can result in the stock sliding shut to its collapsed position unexpectedly. A bad situation which can certainly disrupt accurate shot delivery.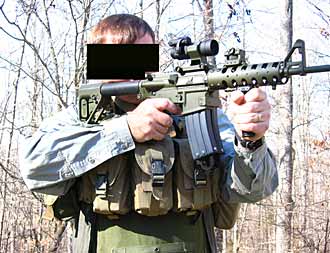 The D&L Sports™ adjustable stock cures durability and reliability problems in a variety of ways.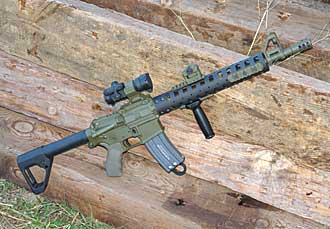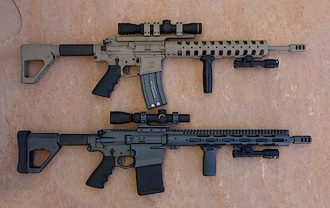 The buffer tube is machined from aluminum bar stock and finish turned to a dimension thicker than standard buffer tubes. These tubes have been repeatedly run over by a ¾ ton truck while in the stock testing phase at DLSATA. No dents and no bends occurred.
The shoulder piece is machined from aluminum block for excellent hard use durability. The rear and bottom are aggressively checkered for good traction against ballistic vest material. The shoulder piece is lightened by material removal in the correct areas for sling attachment points. A variety of sling carry options are possible, all without the rattle of conventional sling hangers.
The shoulder piece is contoured in the right areas to allow a secure and comfortable grip for CQB activities.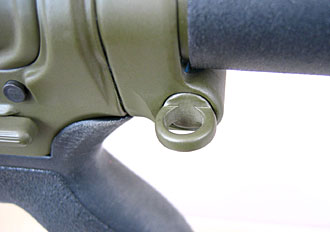 The shoulder piece slides onto the heavy duty buffer tube from the rear and locks in place with dual opposing heavy duty crossbolts. The D&L stock is adjustable for fit, but not quick adjustable in terms of levers or buttons. Experience has shown quick release mechanisms lead to rattle and failure. The D&L stock is adjusted for preferred length of pull then cross bolted in place. The chances of unintentional stock collapse are nonexistent.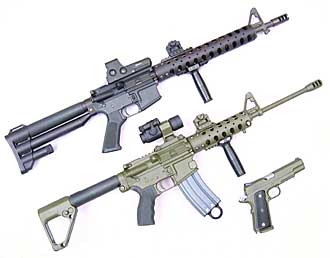 The shoulder piece is removable in case sand or other debris need to be cleaned out. It is also adjustable in terms of sliding tension and fit to the buffer tube. Once the stock is adjusted and locked in place there is zero movement and no more rattle. The shoulder piece and buffer tube also allow for water drainage.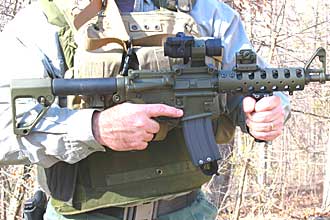 No more frail lock rings or slip fittings attempting to maintain a reliable connection between the stock and receiver. They are not part of the D&L Sports™ design. An integral shoulder is machined on to the buffer tube. The solid shoulder is timed during installation to form a solid indexed connection with the receiver. It is then additionally locked in place with the bottom forward index bracket. In other words, a heavy duty connection is formed.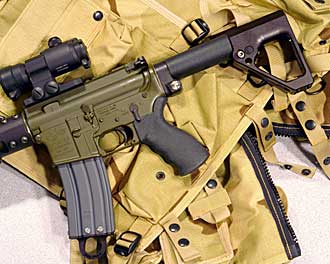 The forward index bracket also incorporates a single point sling ring suitable for left or right hand shooters. A single point sling connection behind the receiver allows for good muzzle control to be maintained, and to keep the firearm's controls and ejection port free from sling interference.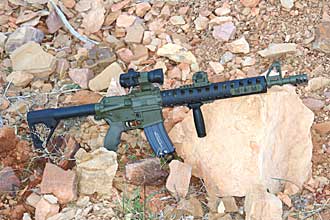 This stock features rubberized cheek protection on the buffer tube. The buffer tube is compatible with a carbine size buffer and spring. The fully extended length of the stock is the same as the D&L Sports™ fixed stock, so it works with or without body armor.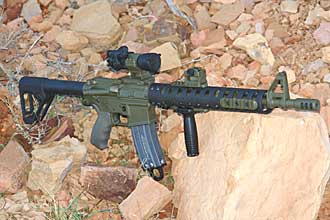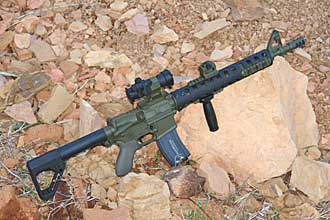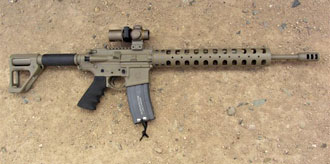 Prices available on request