By John Dustin
(Precision Shooting - March 2010)
What we know today as the International Tactical Riflemen's Championship had its origins in the mid 90's with the Proskopathlon, a collaboration between originator Dr. David Kahn and well known combat arms gunsmith Dave Lauck, also a principal and general partner of the Small Arms Training Academy facility north of Gillette, Wyoming. The following year, management was assumed by area resident Lauck, and the match renamed the Tactical Marksmen's Match. It was organized as a three day shoot involving pistol, "carbine" and long range rifle events, with both high volume and long-range precision courses of fire. This quickly became a premier long range field match, attracting shooters from all over the US and a substantial number of countries as diverse as France, Great Britain, Canada and South Africa. The name of the contest thus evolved into the International Tactical Riflemen's Championship. Shooters ranged from active military and police through the finest of qualified civilian experts, and over time the stature of the match grew.
The match director was none other than Dave Lauck.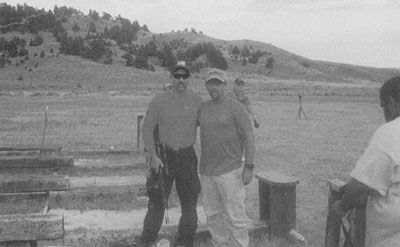 Bennie Cooley and Mike Voigt (right) turned in
another dominating performance in the 2009 ITRC.
One of the great strengths of the ITRC has always been the variety of shooting problems presented; one will confront targets from under 5 yards to well over 500, and the pace of fire will vary accordingly. A premium is placed on both mechanical reliability and shooter adaptability. Dave makes a point of changing the shooting problems year-to-year, lest veterans grow too comfortable with the status quo.
For this match, firearms selection and preparation is a most important element. Pistol shooters will need to be able to hit 6" targets at 50 yards reliably, and deliver up to 500 trouble-free rounds at short range in little more than an hour. "Carbine" shooters will also have to sustain high volumes of fire with utter reliability, as well as hit targets up to 500 yards distant. Mere functionality will not suffice; top grade accuracy is also essential. From this writer's perspective, the long range rifle system must be a solidly sub-MOA performer under good conditions, shooting a high BC projectile at velocities approaching 3000 feet per second.
My new partner J. D. McKnight and I arrived in Gillette the evening before open range day, which is invariably held the day after one of Dave's intensive long range classes and one day before the match begins. JD is a college teacher, law enforcement officer and firearms instructor from the Durango, Colorado area. We established zeros at this altitude (some 4000 feet above MSL), and reviewed likely shooting scenarios. We needed to get some pistol zeros as well, but time did not allow it. The day was cool for late summer, but the forecast portended temperatures well into the 90's for the match days. That evening, the pre-shoot meeting was held at the regional fire training facility in Gillette. 28 teams had signed up, many of them repeaters. The level of pre-match enthusiasm was palpable as teams signed their liability waivers and read their briefing packets. True to form, two entirely new courses were on the menu this year, to be held on the Bliss Ranch, which straddles the Wyoming/Montana border some 60 miles north of Gillette. One course of fire would actually occur in both states. I asked myself how many shooting matches are interstate affairs, and didn't find any answers.
Trends within the tactical community are an important bellwether of what extreme shooters believe about what is working. With this thought in mind, I conducted a poll of the shooters about equipment preferences, with the following results:
"Carbine" shooters without exception relied on the ultra-reliable AR-15 platform, which readily accepts high-accuracy modifications. The absence of reciprocating mass attached to the barrel allow these to achieve exceptional accuracy, if carefully smithed. Examples from DPMS, Cold, JP, Rock River and Bushmaster were on hand, along with some stock and custom pieces.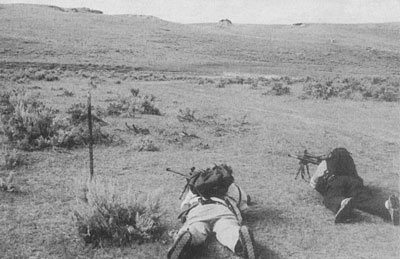 There are plenty of long range opportunities at the ITRC.
Custom barrels are routinely employed, especially on the long range rifles, with Kreiger leading the pack with four examples, followed by Pac-Nor, Hart, Douglas, Schneider and Benchmark with two each, and single examples from Shilen, Ross, Lothar Walther, Shaw and Saber. There are some new players among this group, and it will be interesting to see how their products stand up over time.
Actions for the long range rifles also showed some changes. Some new players were represented, including Defiance Machine, Surgeon and Lawton. All appear to be premium all-steel affairs specifically focused on accuracy. The leader (as typical) was Remington, with 11, and others included McMillan, Mauser, Accuracy International, DPMS (AR-10 derivatives), Tikka and Lawton.
In the optics department, Leupold continues to dominate the riflescope selection, with nearly half of competitors shooting these. A strong inroad is being made by Nightforce, with 11 examples present. Burris is also gaining in popularity with five scopes in use. Schmidt & Bender had three proponents, and the field was rounded out by U.S. Optics, Nikon, and IOR Valdada.
Over half the sidearms selected were high capacity 9 millimeters, a wise choice given the volume of ammunition that needs to be carried on the high volume course. 12 shooters were firing .40 S&W's, while four opted for the 1911 pattern .45.
As usual, there would be two distinct long range courses, where the carbine and rifle would predominate, with a few pistol targets thrown in for good measure. Scoring would be +10 points for carbine targets hit and -20 points for misses, with no more than two hits scored for targets. Thus, one miss would wipe out two hits! The rifle targets carried a +40 point score and -20 for a miss. With scoring of this nature, it would not be difficult to earn a negative score on these courses, and a few teams did.
The high volume event, a carbine and pistol event, would once again be held on the infamous gully course on the SATA grounds. This would include a drive-by event from a trailer pulled at jogging speed, fired with both pistol and carbine. Then, up the well-forested gully we would scramble, engaging a multitude of pistol and carbine targets along the way, and climbing some steep grades in the process. The time allotted was 45 minutes for this segment, and then the teams would descend for the "rattle battle" portion, where rifle and pistol members could count on firing well over 400 rounds in aggregate during another timed event.
JD and I drew one of two long range courses held at the Bliss ranch. Once again, dawn temperatures were very brisk, despite the late August date. At least the wind was less vexing than yesterday! Our event for the day started with a five minute ATV ride northward, during which we crossed from Wyoming into Montana. This is rolling high plains territory, mixed with pine top ridges. The broad expanses of grasslands offer ideal target sites, while the hills provide some realistic cover and good vantage points. Ideal for some rifle targets out to, say, 700+ yards, and carbine targets to about 400. And that's exactly what they gave us.
Almost immediately I encountered a problem with my rifle... or rather with the .260 ammo I had brought for it. Seems that some of my brass had been fired in another sloppier chamber, and my full length sizer was just a little too open to bring the body diameter down quite enough. That day, I spent more time unjamming that rifle than I did engaging targets. This does wonders for the shooter's concentration, of course, but for all of that we escaped disaster, ending up in positive numbers and finishing the course (back in Wyoming) with a few minutes to spare. The overall winners of this event were Mike Voigt and Bennie Cooley, who came into the match as five-time victors in the ITRC. They were followed by the team of Redell and Redell.
Day two saw JD and I on the high volume course at Surefire's Small Arms Training Academy. The day had dawned noticeably warmer, and would easily top 90 degrees before it was done. 45 minutes was allowed for the first segment. Shooting both pistol and carbine, we scored a few hits on the drive-by targets, then commenced the climb up the gully. This course is densely forested, with patches of grassland mixed in and a steep scramble thrown in for good measure. It is also a target-rich environment, with a multitude of steel poppers appearing almost magically through 180 degrees as you make your way up hill. Many pistol targets were at short ranges, with carbine targets at no more than about 200 yards. We did not complete this course within the designated time limit but did finish the majority of it and had a very high percentage of hits on targets identified.
At the end of our time for phase 1, we climbed down the hill and made our way to phase 2, which would require an even greater volume of fire from both pistol and carbine. Once again, 45 minutes was allowed. First up was the carbine man, who would engage something like 35 targets at about 120 yards, double-tap each target, from each of three distinct shooting positions. Let's see, 35 x 2 x 3 equals... 210 shots! By the end of the first position, the only way I could pick up my carbine was by the grip and the bipod. Then it was on to the shoothouse, the pistolero's bailiwick. I can't tell you how many rounds were fired here, but targets required either a knockdown or a double tap. JD handled his duties with intensity and skill, hitting every target with only a few extra rounds required.
We had hit a very high percentage of our targets we shot at on this course, so our score here was respectable. The failure to complete the first phase in regulation time, however, cost us in the overall count. The winners in this event were (you guessed it) Bennie Cooley and Mike Voigt, with second place going again to the Redell/Redell team.
The final shooting day promised to be another hot one, and would find us back at the Bliss Ranch for the other long course (this time completely in Wyoming). These were accommodating folks provided a proper biffy and lemonade for the competitors, and opened their workshop, well-equipped for rifle maintenance, to your correspondent for some badly-needed field repairs. Once again, the course was extremely demanding, requiring some very long shots and, in the author's case, some shots directly into the rising sun as it broke above the horizon. Again, JD and I shot reasonable well, but nowhere near the total racked up by the Crump/Brown team, who finished this event in first place just barely ahead of the Voigt/Cooley team. Three teams ended up in negative numbers for this course.
In the afternoon, back at Surefire's S.A.T.A. grounds, we gathered for the final events. Only one of these, the team-versus-team contest, would count for the final score; the remaining event, the infamous golden egg shoot, was a 1 shot side event for a tactical .308 prize rifle from Legacy Sports International. The team-versus-team match starts with a short sprint to the firing line, where the carbines and rifles rested unloaded. The carbine shooter then loads and engages a series of steel targets at moderate ranges. Only when the carbine shooter has hit all of his targets is the rifle shooter then allowed to load and engage his target or targets, which extend beyond 500 yards. The first team to clear the targets advances to the next round, while the other is eliminated. Should both teams fail to clear the targets in 2 1/2 minutes, it's sayonara to both. With the best teams, the shooting takes only a little longer than the loading. The victors in this event were the Cooley/Voigt team, with O'Neill and Jones as runners up.
The final shooting event of the match, the egg shoot, was then conducted. This is invariably held in mid-to-late afternoon, with mirage and twitchy winds the order of the day. This year, a single competitor succeeded in hitting the printed egg target, and Sonny Stewart proudly claimed his prize, to be delivered that evening at the awards ceremony.
When one team wins three of four events and finishes a strong second in the other, there is not much drama about who might have won. Mike Voigt and Bennie Cooley claimed their 6th TMM/ITRC championship, with a winning margin of nearly 10%. They are a model of preparation, experience, accuracy and fluid fieldcraft, and richly deserve the D&L .223 precision carbine and .45 auto they carried from the prize table. The Redell/Redell team did well to finish in second spot, followed by the Crump/Brown team.
The IRTC represents a form of shooting that demands excellence in equipment, training and personal conditioning in a variety of regimes. Because of this it is as much an instructional tool as a competition, suited to everyone from home/business defenders to extreme big game hunters. Those interested in learning more should visit the website at DLSports.com. Another excellent match, the Steel Safari, is held at Dave and Lorraine Wheeler's Blue Steel Ranch in New Mexico, and produced by Colorado Multigun Inc. This also specializes in long range work, with a somewhat different format; more information is available at coloradomultigun.com. The author personally recommends both contests to individuals who don't object to perspiring a bit, and who wish to achieve their highest and best practical field shooting.